Description
70mai Lite Dash Camera features a high-end video processor that captures videos in 1080p at 30fps with H.265 compression. This system features G-Sensor technology that allows the camera to automatically save footage in the events leading up to a collision and immediately after so you have a record of the incident for insurance disputes or other purposes. Even while the car is turned off and parked, automatically records footage in the event of a collision. With high efficient H.265 video encoding, the camera guarantees clear images in high resolution while optimizing storage space for more footage. This Dash Camera features 6-layer high-resolution lens, industry leading F2.0 aperture and a highly sensitivity image sensor that guarantees excellent night vision.
1080p High Definition Picture Quality
5 Mega-pixel Sony IMX307 Image sensor captures videos in 1920 x 1080 resolution at 30 fps. Also features WDR that adjusts the exposure balance capturing in greater detail, which is both in darkness and strong light produces a more clear and vibrant image. Note: A microSD Class 10 card with 8 – 64 GB and higher is required (sold separately).

Parking Monitoring
When the recorder enters the parking mode automatically once the car has been shut down, the G-sensor will continue to monitor the vehicle. In the event of a collision, automatically starts recording. Also for parking surveillance, the inbuilt battery protection mechanism makes sure the battery is used efficiently. Only captures at 1fps and the video is saved periodically to save memory and power.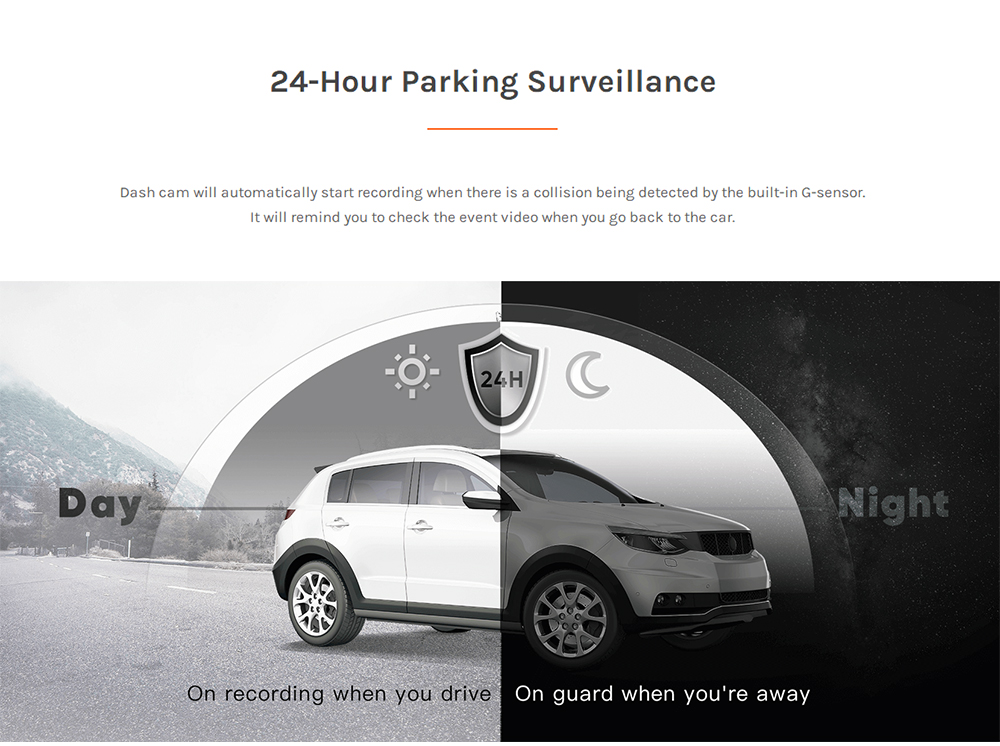 Built-in Wifi with APP Connection
Built-in Wi-Fi lets you connect to the smartphone app so after your journey you can download and share videos for fun, or for insurance purposes.
Optional GPS Module Support
70mai Pro GPS module logs GPS data in captured Videos. Currently the speed rating and GPS co-ordinates could be viewed via the device screen or via the 70mai smartphone app. It is installed as a mount for this camera.
Built-in 2" TFT LCD Widescreen
Using the built-in screen or the 70mai Dash Cam app, for Android and iOS, makes the operation simple. Large buttons and user-friendly icons allow quick and intuitive navigation through the menus and settings.
Package Contents:
– Dash Camera
– Micro USB cable
– Car charger
– Mount with Adhesive
– Electrostatic sticker
– Installation tool
– User manual.